Briars Creek
STEVE KOENIG GAZED AT AN UNDEVELOPED PIECE OF paradise in coastal South Carolina and dreamed of creating a community where world-class golf, exclusive homes and the bounty of nature could thrive in perfect harmony.
Within shouting distance of Kiawah Island and just a 25-minute drive from downtown Charleston, the pristine property was home to ancient oaks, magnificent magnolias, prolific marshes, abundant wildlife and nearly 100 species of birds. All this remains today, amid and around one of the Lowcountry-s most highly-rated golf courses — The Golf Club at Briar-s Creek.
"It-s a beautiful piece of property fronting the Kiawah River," says Koenig, an industrial engineer-turned-developer who has been building high-end homes in South Carolina since 1985. "It-s just a beautiful piece of heaven carved out of a portion of Johns Island." It was, apparently, the only piece of property that would satisfy Koenig-s dream . Ed Myrick, owner of the land since 1991, was unwilling to sell until Koenig offered to make him a partner. Koenig expects to have a few neighbors at Briar-s Creek before long, including Myrick, who lives in Lighthouse Point, Fla., and is building a second home in the Lowcountry.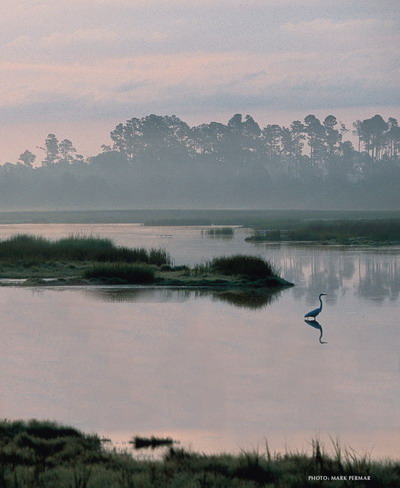 With densely wooded lots of one to seven acres, residents who choose the serenity of Briar-s Creek will see their neighbors only when they want to see them. "Like some of our wildlife, Briar-s Creek is a rarity," says Director of Membership and Marketing Gus Bright. "Our plan is to have approximately 100 homes on these 800 acres. They won-t be on the course, which is almost unheard of in today-s age of golf course development." Bright points out that in most cases, a golf course is simply an added incentive for home buyers. Koenig and Myrick decided from the beginning to make the golfing experience the main focus.
They chose world-renowned architect Rees Jones to fashion 300 acres of woodlands, marsh, lagoons and gently-flowing waterways — twice the size of a typical course — into a jewel that would stand out in an area known for its magnificent golfing venues. Clearly, Jones succeeded in bringing Koenig-s dream to fruition. Briar-s Creek opened for play in November 2001, a month after Koenig and his son personally christened the course by completing its first round of golf, and has already garnered national attention. In 2003, Golf Magazine ranked Briar-s Creek as the 61st best course in the nation. A year later, the publication rated the course as the 10th best built since 1959 and, in 2005, among the top 100 in the United States. Golf Digest rated it the nation-s best new private course of 2002 and among America-s top 100 greatest golf courses in 2005. The publication compared Briar-s Creek-s finishing hole to the famed 18th on the Pacific Ocean at Pebble Beach. Not all golfers will be able to enjoy the gem envisioned by Koenig and created by Jones.
Memberships will be limited to 300, no unaccompanied guests are permitted and there are no tee times. Members play when they want to play. "Our members tell us it-s like having their own private golf course," Bright says. "The club has filled nearly half its membership yet averages only 30 players per day, even during the busy periods." Koenig adds that Briar-s Creek provides a challenge to golfers of all skill levels, with at least six and as many as 12 tee boxes on each hole. The course also offers variety, changing, sometimes dramatically, with the mercurial wind conditions. "Virtually anybody can find a way to enjoy Briar-s Creek," Koenig says. "Golfers never get tired of playing it, and they never get tired of any individual hole. Some courses might have a few weak holes, but here there-s not a single hole that our members would want to avoid. Every hole is a challenge and fun to play."
A few touches enhance Briar-s Creek-s golfing experience, such as a 3,000-square-foot golf cottage built on the course that is available for members and their guests to rent. Seven more cottages are planned. The 19th hole, usually synonymous with the bar, is actually the 20th hole at Briar-s Creek. The 19th is a short par 3 golfers can use to break ties if a winner isn-t determined during the first 18. Loving the game of golf is not a prerequisite for living at Briar-s Creek. Koenig has taken great care to integrate golf and nature with secluded home sites. For instance, 52- acre Lake Sharon, a former tomato field boasting around 3.5 miles of shoreline, provides drainage and a source of irrigation for the golf course.
But it-s also a playground for fishermen, a pastoral setting for future homes, as well as a key aspect of the natural habitat for the wildlife that shares Briar-s Creek with its human inhabitants. "Outside of golf, the biggest appeal here is nature," Koenig says. "Recently I watched an eagle land in a pine tree. Then another one came and they fished together. Briar-s Creek is a very special, quiet retreat where you can experience nature without going to a zoo or park." Margaret Stober, of Atlantic Island Properties, Inc., agrees that nature is an important ingredient of Briar Creek-s allure. Driving through the area with clients, she sometimes has to stop her car to avoid the throngs of wild turkeys who also live there. "We-re honored to be able to offer these properties," she says, 'Briar-s Creek is just a wonderful place."
The Audubon Society has recognized Briar-s Creek and granted it the coveted Silver Certification under the Cooperative Sanctuary Program every year since 2001. The Society monitors Briar-s Creek-s progress in areas including environmental planning, wildlife and habitat management, member and public involvement, integrated pest management, water conservation and water quality management. "We go to great lengths to make sure the wetlands and the wildlife are protected and preserved. The Audubon Society has very strong standards," Bright comments.
The Golf Club at Briar-s Creek offers more than the chance to play golf in a nature-friendly environment. Members and residents can enjoy walking the three-mile nature trail or visiting the "huge and amazing" wildlife sanctuary— home to many species of birds, including great blue herons, white ibis-, ospreys, eagles, owls and endangered wood storks. A pool and tennis courts will be built in the residential area, while other activities include bird watching, fishing, crabbing, shrimping, canoeing, kayaking, oyster roasts and cookouts.
From deep-water docks, boaters can reach the Kiawah River and the Atlantic Ocean. Briar-s Creek also boasts a first-class culinary and hospitality operation with world-class dining, cooking classes, wine tasting and creative social events. The opportunity to play golf at an exclusive course and live in a secluded home surrounded by nature is drawing interest in Briar-s Creek from across the country. For instance, Jim Bannister, who splits time between his home in New Albany, Ohio, and Kiawah Island, bought a lot on Wild Turkey Way in Briar-s Creek last June. He plans to start building this year and will eventually sell one of his current homes.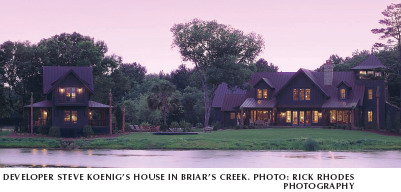 "To me, it-s the consummate private retreat," he says. "It offers the privacy and quiet lifestyle we-re looking for, but it-s only 25 minutes from downtown Charleston and close to Kiawah." He adds that golf was a major reason for choosing Briar-s Creek. "The golf course was what really attracted me initially," he says. "It-s a course you never get tired of playing. You can play on Sunday and again on Tuesday, and it will be a totally different course. It will give you a variety of different shots and different looks." For Jeff Mann and his family, moving from New Hope, Pa., a Philadelphia suburb, to Briar-s Creek would seem like a spur-of-the-moment decision.
He-s confident that they made the right choice. After receiving a marketing DVD from Atlantic Island Properties real estate agent Julie Gelatt in January 2006, he visited the Lowcountry - for the first time - a week or so later, met with Koenig and Gelatt and purchased a lot on Lake Sharon by the end of February. "Everything has fallen into place," he comments. "What intrigued me about the golf course is the limited number of memberships and that there are no tee times. The course is phenomenal. And we-ll get to raise our daughter in a completely different lifestyle, with the scenery and wildlife. It will be really different from the fast pace of the Northeast."