June 10, 2023
Covert Tile Company Tile Traveler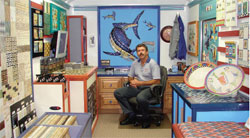 Early in his career, Paul Covert served 11 years in the U.S. Air Force as a Chinese linguist. After 15 years of experience in tile design and installation, he speaks the language of tile. A recent convert to the South Carolina coast, he brings his passion for quality and customer service to you. Literally.
The owner of Covert Tile Company, Paul takes immense pride in his enormous selection of ceramic, porcelain, natural stone, glass, bronze, pewter and much more, and he will bring his wonderland of tile creations to your location in his mobile showroom. Whether you are building or renovating, you-re bound to fi nd exactly what you want. And if you don-t, just ask Paul, and he will try to fi nd it for you among his many manufacturers or even order a custom design.
That-s what Covert Tile is all about—selection and service designed to ensure customer satisfaction. Having brought his considerable expertise from Maryland, Paul decided to open his own tile business dedicated to the total customer experience. He will work directly with the homeowner, designer, architect and builder to ensure a smooth process and a satisfied customer.
Paul-s mobile showroom has a delightful sampling, including custom mosaics for your pool and tiles featuring sea creatures by Surving Studios. For a whimsical look, Paul might steer you to Terry Tiles. If your style leans more to classic, Lyric Tile could be the way to go. Open your eyes to all the possibilities, and you just might discover a look you-ve never seen before—something like Arizona Hot Dots, which is glass and pewter, or Dolce Glass, an explosion of transparent and opaque glass in brilliant colors.
No matter what you are looking for when building or renovating, from tile for the bathroom with a matching sink and cabinet knobs to a decorative kitchen back-splash, you-ll find it all in Paul-s mobile showroom. And when Paul begins speaking the language of tile, you-ll understand that he is all about customer service.
Would you like this content on your website or do you have any questions about this article? If so, contact publisher@mediaservices1.com.