June 09, 2023
Building The Dream Part II: Framing
IT'S HARD TO BELIEVE THIS IS THE SAME HOUSE. Only the bits that remain of the original home remind me of its humble beginnings because the house itself has just about doubled in size. Best of all, it's completely framed in and you can see it taking shape.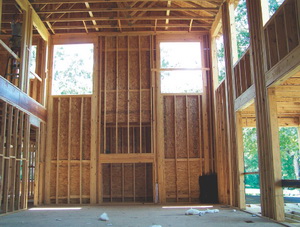 Michael Ackerman of Ackerman Construction takes me on a tour of the house, pointing out the spacious living room with floor-to-ceiling fireplace and the loft that overlooks it. And here are the kitchen, dining room and breakfast nook. There are two bedrooms and perhaps "a media room, if the new owners desire," also on the first floor.
But I can tell that Michael can hardly wait to show me the upstairs. As soon as I reach the second floor, I am ready to move in myself. This is my dream space. The loft is open and airy, a perfect spot for a home office. A spacious master bedroom suite takes up a big part of this level, but it is not so much the space as the view from this room that draws me in.
"We enjoy coming up here just to look out the window for a minute," Michael says of his workers, who are putting their heart and soul into this renovation.
As we walk through, Michael reminds me to come back often because the changes will be visible daily. He doesn't need to tell me twice. His enthusiasm for the project is contagious, and I'm already looking forward to my next visit.
Would you like this content on your website or do you have any questions about this article? If so, contact publisher@mediaservices1.com.