Freshfields: Johns Island
Welcoming Home Friends, Neighbors and Travelers
Free movies, a farmers markets, old-fashioned sodas, free Internet and delicious coffee are waiting for you at Freshfields Village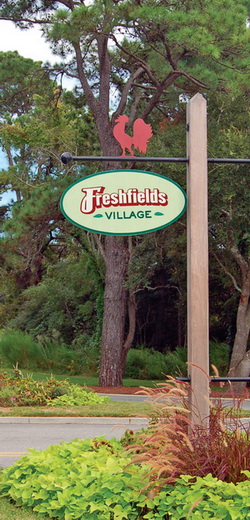 Located at the corner of Kiawah, Seabrook and Johns Islands, Freshfields Village brings together these communities by providing a great meeting spot for tourists and locals alike. I spent a glorious afternoon there, wandering from booth to booth at the farmers market, sipping coffee in a cafe and talking with Mark Ethridge, author of Grievances, at Indigo Books. The Freshfields Village setup is great. A small pond with a beautiful fountain sits on one side, while an old-fashioned pharmacy/soda shop occupies a corner in the center of the village. The sidewalks are littered with tables and chairs for the European-style sidewalk cafes created by the restaurants and coffee shops.
On one corner, Java Java serves some of the best coffee in the Charleston area. My dreams came true when I discovered that this wonderful shop provides free wireless Internet. Java Java also caters to those without the luxury of a laptop with two computers that allow you to access the Internet for free. For weary travelers or new homeowners, Java Java is a lifesaver.
Next door is Indigo Books. As an avid reader and, of course, as a writer, I love to find great books, and Indigo Books made my search easy. Throughout the store, Dr. Tom-s recommendations are posted on 3 x 5 cards taped beneath the book. Finding a good beach read has never been easier, and the recommendations cover a variety of genres and topics.
If all of that isn-t enough, a farmers market is held every Monday from 4 p.m. to 8 p.m. during the summer. It includes everything from fresh flowers and vegetables to sweetgrass baskets and, my personal favorite, kettle corn. But it gets better. On Wednesdays throughout the summer, free movies play in the square as families gather on blankets to enjoy the show together.
Tourists love to visit Freshfields Village, and many visitors also own homes in the area and have neighborly reunions throughout the summer. During the year, though, the locals return. Coming to Freshfields Village reminds me of walking into a family reunion as people greet each other and share their latest news. They warmly invite others to join in their friendships as they reminisce about the wonderful memories they-ve created together.
If you want a place to relax, visit and enjoy community, you will want to visit Freshfields Village. Of all the places I have been in the Charleston area, Freshfields is truly one of my favorites. And, to my delight, a Marble Slab Creamery will soon be putting down roots in the Village.