Salt Marsh at Seabrook Townhomes, Seabrook Island, South Carolina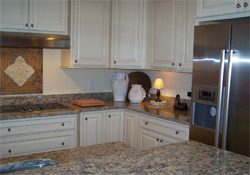 LIFE IS A BIT QUIETER ON Seabrook Island. Its sister island, slightly to the north, Kiawah, is perhaps better known, but Seabrook offers the same wide, sandy beaches and similar amenities amid the lush canopy of ancient oak trees.
Salt Marsh at Seabrook, a gated community, lies just outside the main gate, but it is very much a part of this lovely residential island. A total of 63 townhomes will grace this quiet corner overlooking pristine marshland on a tidal creek off the Bohicket River.
"What we liked about it is that Seabrook has never been hit by a hurricane (1989-s Hurricane Hugo spared the island). All the canopies are still intact," says Edward C. "Bud" Mann III, the developer of Salt Marsh.
The current townhomes are a little more than 2,000 square feet in size and feature three bedrooms and three bathrooms spread over two spacious floors. A final phase of Salt Marsh is set to begin soon; these new townhomes will be larger, covering more than 3,000 square feet of living space. These three-floor plans will include four bedrooms, two of them master suites, and four-and-a-half bathrooms. Each unit includes a ground-floor garage.
"There are two major features that sell these townhomes," says Meredith Hastings, director of sales and marketing. "The Andersen windows and doors are hurricane rated, with impact glass, and the elevator."
Certainly the high-end windows and elevator are advantages, but Salt Marsh offers much more, and the attention to detail is evident throughout. Nine-foot smooth ceilings, imposing 8-foot doors, crown molding, hardwood flooring in the living areas and luxurious Karastan carpeting in the bedrooms are a few of the touches that set these residences apart.
The kitchens are similar to those seen in multimillion-dollar homes, scaled down but spacious nonetheless, and include stainless steel Bosch appliances, granite countertops and custom cabinetry.
With so much to like, amenities might seem like an afterthought but in fact, the homeowners at Salt Marsh have complete access to all that Seabrook has to offer, including golf, tennis, a beach club and an equestrian center. Seabrook is completely revamping all of its recreational facilities from the ground up as part of its $31-million Horizon Plan. In the works are a renovation of the equestrian center and new facilities for the golf, tennis and beach centers. Also planned is an island center that will feature an amphitheater.